For information and tee times call:
(563) 326-7824
Address:  3000 E. Locust Street
Davenport, IA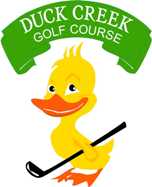 Duck Creek is a beautiful 18-hole golf course which is 5,759 yards long and plays to a par of 70. It is the site of a former private arboretum and its 140 acres feature a mature stand of trees and dramatic changes in elevation as it follows Duck Creek eastward to the city's boundary. This challenging facility is popular with all skill levels. An automated irrigation system was installed in 1994, and a Driving Range was created in 2010. Advanced tee-times are recommended.
Minimum age for play on 18-hole and 9-hole courses is 8 years old. No 9-hole rates on weekends until afternoon.
New Driving Range At Duck Creek
A new driving practice range is now available at Duck Creek Golf Course in Davenport. The practice range has 14 stations and each station uses the latest artificial surface technology allowing golfers to place their tee directly into the surface. The driving range is downhill, allowing golfers to better see their practice drives. Target areas are set along the range at 100, 150, and 200 yards. The entire length of the practice range is approximately 350 yards.
Cosmic Golf – Night Driving Range will return for 2024!
Thank you for making 2023 another great Cosmic Golf season! The out-of-this-world driving range will return to Duck Creek Golf Course June 2024!
Enjoy this glow-in-the-dark golf experience great for all ages and levels Fridays and Saturdays June through August from 8 p.m. to 11 p.m.
Fee: $12 for 30-minute range slot
For more information or to book a time, call
563-326-7824.